Stoned Youth Records is a small cheap DIY label/distro started this year 2010.
All releases are in limited quantity, CD-R's/ 3" CD-R's/DIY tapes black and white artwork and printed on plain/gloss/colored paper. SxYxRx was only supporting DIY UG bands such as, PUNK, CRUST, GRINDCORE,
POWERVIOLENCE, GOREGRIND, DOOM METAL, STONER METAL,DEATH METAL and PORNGRIND.
::ORDER INFORMATION::PAYPAL:
unite_and_survive@yahoo.com
MAIL ORDER:
send in same address(AT YOUR OWN RISK!)
-Prices are in Euro, SxYxRx also accepts Philippine Peso-
-Email me 1st Before sending any type of Payments-
-If you are ordering via mail order, be sure to make it on registered mail-
-Orders are shipped in 1-2 days after receiving the payment-
-SxYxRx will notify you when the records has shipped-
-SxYxRx is not responsible for the lost, stolen or damage orders-
-TRADES are more than welcome, be sure shoot me an email 1st-
LEE ALMERIA
Merikatu 7 A 1
00140 Helsinki Finland
stonedyouthrecords@yahoo.com
perversemolestor@hotmail.com
www.myspace.com/stonedyouthrecords
::RELEASES::
Vulgar Displays of Perversion "They enjoy Practicing what they want 2010"
FORMAT:
CD-R jewel case Limited to 25 copies(Few Left!)
DESCRIPTION:
Porngore grind from Finland/Philippines, 5 Tracks of ear pissing porn addicts noise!!!
DAMAGE:
3,00€+ postage/Trades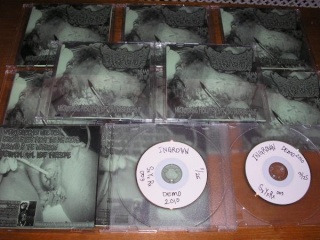 Ingrown "Necrotizing Fascitist Left Leg Debridement 2010"
FORMAT:
3"CD-R slim jewel case Limited to 25 copies
DESCRIPTION:
Goregrind Splattering Masters from Philippines
DAMAGE:
2,00€ + postage/Trades

::DISTRO::
CD-R'S/3" CD-R'S PHOTO COPIED COVERS WITH NICE SLEEVES: 1,50€+postage
-Smallpox Aroma/Satsugai 2-Way split "Ulcerous Eroticarcinomatosyphilis Peritonindometritis"
(BITUKA RECORDS)
-Condom Decay "Pregnanthology"
(HUMAN DISCOUNT RECORDS)
-Cystic Teratoma "Teratomes Introducing the Malign"
(HUMAN DISCOUNT RECORDS)
-Guerra Mundial "Demo 08"
(SELF RELEASED)
-Execution of Terror "Demo 06"
(SELF RELEASED)
-Fleischwald full length "War Machine"
(HUMAN DISCOUNT RECORDS)
-HxAxSx "Zoosexual Relationship"
(TAMPON TITWANK RECORDS)
-Tuco/GxAxP 2-Way split "Chi Mi Frega E Non Mi Ammazza Non Ha Capito Niente di Tuco"
(????)
-Neisseria Gonorrhoeae/Picha 2-Way split "Two ways to Torture a Rotten Body with Surhery"
(HUMAN DISCOUNT RECORDS)
-Befall "DEMO 03"
(SELF RELEASED)
CD-R'S PRO COVER WITH NICE SLEEVES: 3,00€ + postage
-Fleischwald/Insomnia Isterica/Behind the Mirror 3-Way split
(GRIND AMBUSH RECORDS)
-Carne De Puta/Boggy Bong/Gorejah/Wiolence Conjugale 4-Way split "Songs for the Dead"
(PUTRID ATTITUDE RECORDS)
-The Bitch Project/Boggy Bong 2-Way split "Bong Girls Don't say NO"
(PUTRID ATTITUDE RECORDS)
-Eaten/AxYxWxLxIxTx/AxYxSxLxIxTx/Vomit Grinder 4-Way split "Forbidden Tales from the book of Gibbon" (PUTRID ATTITUDE RECORDS)
-Ferox Fecal/IxCxFx/Zombi Gang Bang 3-Way split "Mondo Trasho"
(PUTRID ATTITUDE RECORDS)
PRO CD'S: 5,00€ + postage
-Vex full length "Capitalism is Cannibalism"
(TERIAK,NUCLEAR ALCOHOLOCAUST,MURDER,HISTOPLASMOSIS ETC.)
::PLANNED RELEASES::
(SxYxRx002)
VxDxPx/Throat/Anal Perversion is Redemption 3-Way split "Grind the Reality"
FORMAT: CD-R+sticker slim jewel case
(SxYxRx004)
Nekroholocaust/Cranial Schism "Two ways Raping a Cranial"
FORMAT: 3" CD-R slim jewel case
(SxYxRx005)
"A Harsh Noise for a Distorted Future vol.1" V/A
FORMAT: CD-R+ sticker with inserts slim jewel case
FOR MORE FURTHER QUESTIONS, HATRED'S, DISLIKE'S, FEEL FREE TO MAIL ME...
THANKS AND CHEERS TO ALL!!!